TB-40S
TOBEST high precision hydraulic two rollers thread rolling machine advantages: The product which threaded by our machine is high precision and stability. the machine can use for Automotive Shafts,Medical Devices,Power Tool Shafts ,Electric Motor Shafts
Machine Details of TOBEST TB-40S

Download
INQUIRY
Description










Advantage of our TB-40S
1.combine dual-row needle bearing and cylindrical roller bearing for machine spindle to ensure the precision and rigidity.
2.for the driving system of spindle,adopt multi-stage grinded gear box to realize stable and convenient speed variation.
3.with sandwich plate value for hydraulic system,the whole machine is more beautiful with less space usage and reliable performance,so both the operation and maintenance can be carried on smoothly.
4.for the control modes,there are manual,semi-auto and automatic modes for your option,besides,the time can be delected by new digital display.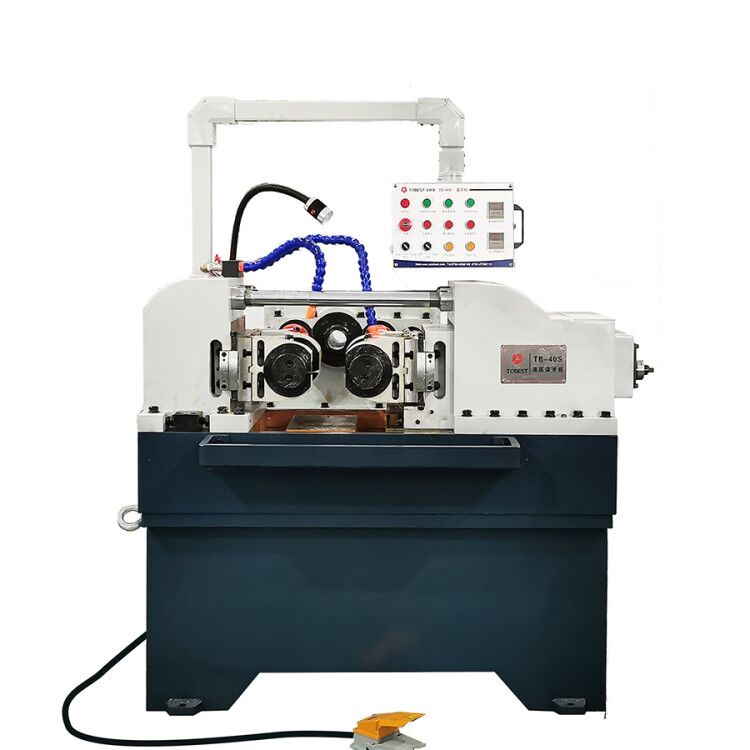 Diameter for the threads rolled
φ12-φ80/mm
Range of pitch rolled
0.8-6.0P
Max.length of thread rolled
In feed or Thru feed
Spindle speed
16/25/40/63 rpm
Outside diameter of rolling die
φ135-φ215mm
Inside diameter of rolling die(keyway)
φ75mm
Thickness of rolling die
Gear way
Max. 140 mm
Grinding gear box driving
Output(pcs/min)
5-25(pcs/min)
Main power motor
5.5KW
Hydraulic motor
2.2KW
Max rolling pressure
20T
Supply voltage
380V
Weight(reference)
2900(KG)